WELCOME TO ST DROSTANS ONLINE!
Bill's Summer Message
Matthew 7: 24-27

So then, anyone who hears these words of mine and obeys them is like a wise man who built his house upon the rock. The rain poured down, the rivers flooded over and the wind blew hard against the house. But it did not fail because it was built upon the rock.
I am sure we all remember the parable mentioned in Matthew's gospel. We have known it since we were children, probably because we loved the actions used in the song, 'the rain came down and the floods came up', but there is a serious side to the parable because what most people do not realise is that flood damage is done long before people see a house collapse or a car float downstream. The damage starts as the water pressure rises enough to move the smallest grains of sand, which means that the larger bits then have no support and so they fail because their own weight works against them.

'But it did not fail because it was built upon the rock'

That is the lesson we need to keep in our minds in the next months. The church is precious yes, but the church only becomes alive when you are in it.
What we have to believe is that God who inspired those who have gone before us to pray and work for a church is the same God, Yesterday, Today and Tomorrow.
How we manage these changes will decide what church our children and grandchildren have to worship in.
Every Blessing. Bill.
A Visit From John and Nancy Eckersley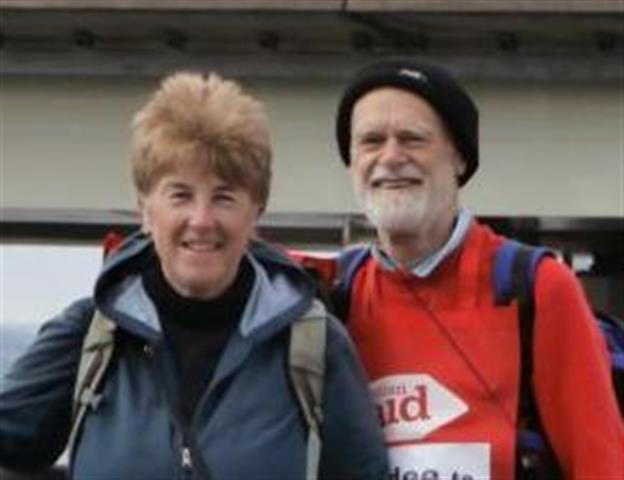 On Sunday 19th June we were delighted to welcome John and Nancy to our service. They are currently engaged on a 'Firth to Firth' walk from Dundee to Inverness on behalf of Christian Aid. The plan is to raise £1000 for women and girls in Ethiopia and this money will be boosted to £6000 by EU support. If you wish to add your support click here to find out more about donating.
Other News
We are pleased to advise that Miss Heather Gibson is our new Session Clerk and Miss Gail Wheelhouse will be Assistant Session Clerk. We wish the girls well.
The annual Sponsored Walk was again, a great success and the good weather helped greatly! All money is not yet in but the sum raised will be over £700.Thanks to everyone who supported us.